Mitt Romney is in England – supposedly advancing his foreign policy cred – and yet he keeps putting his foot in his mouth. Less than 48 hours into his visit, he insulted the British by questioning whether they are up to hosting the Olympics. He also appeared to forget the name of Labour Leader Ed Miliband and he improperly boasted about meeting the head of MI6. And that's not counting the report that his adviser told the Telegraph that President Obama didn't "fully appreciate" the "Anglo-Saxon heritage" shared by Britain and the U.S. But judging from the home page of FoxNews.com or Fox Nation, none of those things ever happened.
As durrati at DailyKos noted, a Telegraph columnist wrote today: Mitt Romney is perhaps the only politician who could start a trip that was supposed to be a charm offensive by being utterly devoid of charm and mildly offensive.
But we can expect that reaction to be off Fox's Romney-cheering/Obama-bashing radar screen, too.
Source for above: newhounds
Source for below: The British Guardian Newspaper
Oh, Mitt: those Romney gaffes in full
Boobs, blunders, clangers – whatever you call them, Romney likes to drop them. And he's really outdone himself in London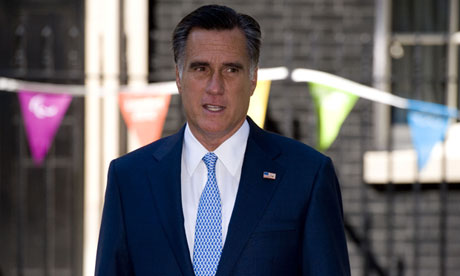 From criticising the biggest sporting event Britain has held in over 40 years, to "looking out of the backside of 10 Downing Street",
Mitt Romney
's first foreign trip of his presidential candidacy hasn't gone quite as well as he might have hoped. As the former Massachusetts governor continues to gaffe his way across
London
, here's a round-up of Romney's red-facers. So far.
On the Olympics: 'There are a few things that are disconcerting'
On Wednesday, the day he arrived in London, Romney
was interviewed by NBC's Brian Williams
. In a softball warm-up question, Williams asked Romney about his wife's horse, Rafalca, which will be in competition in the dressage, and whether Britain looked ready to host the Olympics. Easy, surely? Not for Romney.
"There are a few things that were disconcerting," Romney said of the event which has been 15 years in the planning and is expected to cost over £9bn.
"The stories about the private security firm not having enough people, the supposed strike of the immigration and customs officials – that obviously is not something which is encouraging."
It put a bit of a dampener on Romney's meeting with David Cameron on Thursday. "We are holding an Olympic Games in one of the busiest, most active, bustling cities anywhere in the world," the prime minister said, pointedly. "Of course it's easier if you hold an Olympic Games in the middle of nowhere." (Romney ran the 2002 Winter Olympics in Salt Lake Ciy, Utah.)
Red-face rating: 8/10.
Take that, Romney! Now get that horse out of my sight.
On Ed Miliband: 'Mr Leader'
On to a meeting with the leader of the opposition Labour party, Ed Miliband – a man often criticised for being awkward and lacking a common touch. They should have got on famously. But Romney seemed to forget Miliband's name. "Like you, Mr Leader, I look forward to our conversations this morning," Romney said.
But he reeled it right back in, British-style, with some spontaneous patter about the weather. ("Could not be better. Fortunately the sunshine is out. The warmth is here.") And Miliband's team smoothed it over, recognising that American politicians often refer to each other by their titles.
Red-face rating:
3/10. You're not in North Korea now, mate.